Originally, the idea was to create a trail running event in an urban environment where few people would have tried to design trail races. Since the discipline was widely unknown in the city, the concept was to set eco-responsible values at the core of the event's DNA and to capitalize on the registration of neophytes to raise awareness about the good practices.
The idea came to reality in Paris on March 16th 2008.
10 years ago, no event had such a committed approach to sustainable development. Not only was it the occasion to stand out, but it was also the occasion to bring the various partners together, especially the concerned regions that were looking to showcase their commitment and their actions in the protection of natural environments.
Local organizers quickly began to consider organizing an EcoTrail® to highlight their region.
The concept started expanding to other cities in 2012, first in Brussels, capital of Europe.
In 2015, two drastically different cities also joined the EcoTrail®: Oslo (Norway) and Funchal (Madeira, Portugal). Both destinations helped widening the type of courses available on the circuit.
Then came Madrid in 2016 and Stockholm & Reykjavik in 2017, increasing again the number of destinations to discover.
In 2018, two new destinations joined the adventure: Florence and Geneva. In 2019, EcoTrail Family grew up again and welcomed 3 new EcoTrail: Wicklow in Ireland, Chiang Mai in Thailand & Putrajaya in Malaysia. In 2020, the concept still growing, this time in Middle East, in AlUla in Saudi Araba.
The 2020 calendar has been disrupted and overturned by the Covid-19 health crisis. Nevertheless, the year 2021 promises to be a full year and several destinations are already on the program.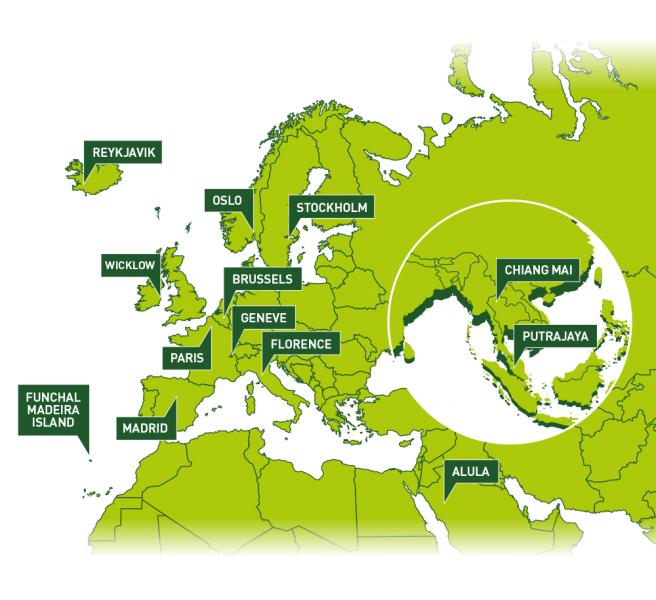 With such an authentic and atypical approach, the EcoTrail® offers all the needed guarantees to regions and partners (industrial and institutional) who are willing to join the adventure.